Festival 2017
CLARENBRIDGE SAYS 'NIGHT NIGHT' TO OYSTERS AND ANNOUNCES NEW DATES FOR FESTIVAL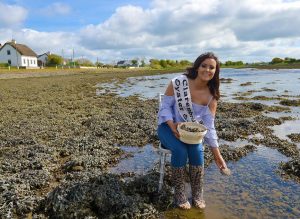 As tradition says: 'Only Eat Oysters when there is an 'R' in the month'.
So the Clarenbridge 2016 Oyster Queen Jade Cunniffe visited Morans on The Weir this week to help put the 'Oysters to bed' at the end of April.
In an important announcement the world famous Clarenbridge Oyster Festival has also decided for 2017 to trial new dates. The 2017 Festival will be from Thursday 5th October to Sunday 8th October.
Speaking about this decision Brian Carr of the Festival explained the rationale. "We have received feedback over the past number of years of how the beginning of September is a very expensive time for families with children having just returned to school. Also by moving the Festival to October it gives another reason for tourists to consider coming to Galway outside the busier summer months and so adding value to the local economy."
The Oyster Queen will still welcome Oysters back to Galway at the beginning of September with the popular Market Day in Clarenbridge and details about the Selection for the new 2017 Queen will be announced over the coming weeks.
Building on the success of the Festival there is a vibrant interest locally and this has included new members this year joining the organising Team. The 2017 Clarenbridge Oyster Festival will include new initiatives with an emphasis on promoting the gourmet's favourite, the local Native Oyster as well as an Artisan Food Village and of course one of Galway's Social Events of the Year, the Saturday celebrations in the Festival Marquee. The Festival will also be supported by the Galway European Region of Gastronomy 2018.
Clarenbridge is the home of the famous Native Oyster and the 2017 Clarenbridge Oyster Festival will be the place to celebrate in style….5th- 8th October 2017.